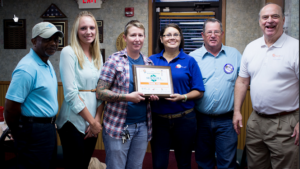 Founder, President and Chief Executive Officer of TyRex Company, John Walsh (pictured above, far right) honored the Round Rock Sertoma Club on August 12 for its mission to serve mankind. Walsh is the creator and founder of a non-profit organization with the purpose of fostering and encouraging more good deeds by founding "Recognize Good." The Recognize Good Foundation created a new category to honor others – a service clubs category.
With the help of Recognize Good, PET Mobility Project in Round Rock has taken off and is serving more people in need. "PET" stands for Personal Mobility Transportation. Such a mode of transportation is a cart made for a child or adult who has lost the use of their legs and is unable to be mobile without such a vehicle. These carts are operated by using their arm strength to move the carts around. Many of these people overseas have lost the use of their legs due to war and polio. Adults can do their shopping as necessary and kids can go to school.
Since 1994, more than 44,000 PET carts have been built and distributed to people in 100 countries around the world. There are three workshops in the United States – one of which is in the Austin/Round Rock area, one in Africa, one in Australia and five new ones fixing to open up in the U.S.
The PET carts are heavy duty in construction so they can withstand rough ground and terrain. Many of the PET carts built in the Austin/Round Rock workshop is given to people in the Austin/Round rock community as well as to people in Mexico, Honduras and India. The local PET workshop started building 10 of these vehicles on a monthly basis.
In 2010, the lease on the garage that the workshop was used had expired and the company that was leasing it to Austin/Round Rock PET Project needed the space for other business purposes. As a result, the number of built PETs declined to 5/month. Jon bosh associated with TyRex In 2012, the company invited the Austin/Round Rock PET Project to use the empty warehouse that the company has. Now, the Austin/Round Rock PET Project is able to build approximately 20 such vehicles per month.
At the end of the Sertoma Club meeting presentation, John Walsh presented the Sertoma Club with two PET vehicles which he acquired for the club with a license attached to each vehicle. There is available space on each vehicle, which the Sertoma Club can use to advertise or promote various causes.